ChefWannabee
This is the blog associated with Your Smart Kitchen, your online source for quality cookware, bakeware cutlery, appliances and more.
It is our intent to make cooking both easier and more fun. Cookware is just the start. Getting the right pots, pans, skillets and so on for your style of cooking is important to us. We have complete set of cookware at very reasonable prices. But we also provide a selection of cookware and bakeware so that you can get the pieces that you will use more frequently along with those items for special activities such as copper saute pans, silicon baking sheets, chafing dishes, panini grills and others.
Recipes are core to good meals and we will provide many. In addition, we will provide comments, hints and tips to make the recipes easier to do and the meals better. These will include ideas on making preparation easier with out impacting results along with meal planning, wine paring, and other suggestions.
We will include comments and observations from an array of chefs both famous and not so famous. As we have observed over the years, some of the best recipes have come from regular home cooks who have a few years of experience because, frequently, it is as important to a have a good sense of ingredients, tastes and combinations as it is to be able or read specific directions. And often it is the variations on a theme that makes meals more intriguing and distinctive which is frequently an issue for midweek meals.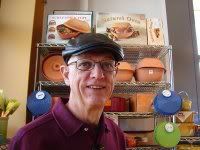 Service and support will be a staple at Your Smart Kitchen. Most of our products carry long or lifetime warranties so it is important to us that you are satisfied with your products and have a place to ask questions. In addition, there may be items that you can not find either on our site or others easily. We have access to a wide range of suppliers and we will endeavor to find those items for you.
So be sure to visit this site often and participate in the dialog. Sign up for our to get access to the latest information, specials along with discount offers. And be sure to visit Your Smart Kitchen to a wide array of products. In addition, check out our other sites at Hub Pages and Squidoo and join our group on FaceBook.