Holiday Promotions From Chef Wannabee
I published quite a few holiday promotions on the Chef Wannabee Newsletter. The only people who get to see these promotions usually are the subscribers of the newsletter. So I thought I would publish some of these here for others to see.
There are some really good offers included since my normal web site is not very functional right now. However, these will not be available very long and this page will come down on December 15th which is the last day that I can promise delivery before Christmas.
So I invite you to take a look to see what fits your gift list or your kitchen's needs.
Holiday Greetings
This is the third of of our holiday emails for the holiday period.
Thank you for continuing to be a regular reader of Chef Wannabees notes. I hope you find many of them useful. For those who send me suggestions and comments additional thanks as that is the only way I know how to make these communications more beneficial to you.
The encouraging news for this holiday period is that shoppers are out there buying things for the holidays. There are a couple of note worthy trends in the news. Shoppers are being more practical in items they are searching for and they are looking for "bargains".
I think the items Your Smart Kitchen are promoting fit both of these criteria. The majority quality cookware we present have life time guarantees (except ceramic) and the promotional pricing makes them a bargain. Further, we support this with our personal guarantee of customer satisfaction.
So I hope you find something that fits your gift or personal preferences. Of if these do not, let me know and I will put together a customized set of items for you.
I am repeating the offers from the first two emails (without accompanying pictures) and there will be some new items below.
As always, if there are any questions, let me know.
All the best for the holidays.
Terry Retter
Chef Wannabee
Your Smart Kitchen
Free shipping on all orders over $99.
Holiday Promotions
Fissler knives combine quality German look and feel with traditional Asian sharp edges which provides knives that are easy to use and perform exquisitely.
Profession Chef's Knife 6.3 inches
Retail normally is close to $100 and is offered at $85.
Our promotional price is $62.00
Perfection Chef's Knife 6.3 inches
Retail typically over $100 but being offered at $88
Our promotional price is $65.00
Two combination promotions are also available
Profession Duo
Carving Knife 7.9 inch
Chef's Knife 7.9 inch
Retail $263 Promotional price $185.00
Perfection Duo
Carving Knife 7.9 inch
Santoku Knife 7.1 inch
Retail $282 Promotion price $198
The reviews on the Fissler cutlery that was recently introduced have been so good that I want to add some additional items to our holiday promotions list.
Profession Knives
Magnetic knife block with Japanese knives – 4 Piece Set
Santoku Knife with hollow edge 7.1. in
Yanagiba Knife 7.1 in
Deba Knife 7.1 in
Knife block – magnetic
Retail price $625 Promotion price $450
Perfection
Perfection Knife block with knives and steek – 7 pieces
Larding Knife 3.6 in
Utility Knife 5.1 in
Carving Knife 6.3 in
Chef's Knife 7.9 in
Bread Knife 7.9 in
Sharpening Steel
Knife block
Retail Price $ 725 Promotion price $550
Rather than attempt to guess what people would like from the array of knives from Fissler. I will list some of them so that you can pick the items you like. Listed are the suggested retail prices. For any individual item, take 20% off, for any two items 25% off and for any three or more take 30% off MSRP.
These can be seen at http://fisslerusa.com
Profession Line of Cutlery
Peeling knife $75.00
Vegetable knife $75.00
Utility knife $88.00
Carving knife $107.00
Santoku knife $138.00
Chef's Knife $144.00
Yanagiba Knife $144.00
Nakiri Knife $144.00
Deba Knife $175.00
Perfection Lineof Cutlery
Peeling knife $82.00
Vegetable knife $88.00
Utility knife $100.00
Carving knife $113.00
Santoku knife 5.5 in $125.00
Santoku knife 7.1 in $150.00
Chef's Knife $150.00
Filleting Knife $125.00
Beyond cookware and cutlery, here are a couple of small appliances to consider:
L'Equip Stick Blender
Retail $80 Promotion Price $67
Bamix Hand Mixer – White
Retail $180 Promotion price $154
Cloer Double Waffle Maker
Retail $70 Promotion price $55.00
Zojirushi Home Bakery Supreme – Model X-20
Retail $265.00 Promotion price $200.00

Pressure Cookers
We have been using the Fissler Pressure Pan Set for nearly a year and am still amazed at how easy it is to use and wonderful the food tastes. So I am repeating this offer.
The pressure pan is just one of a wide line of Fissler Pressure cookers and stainless steel cookware.
So we would like to try to make it convenient for you to have one of these quality pressure cookers.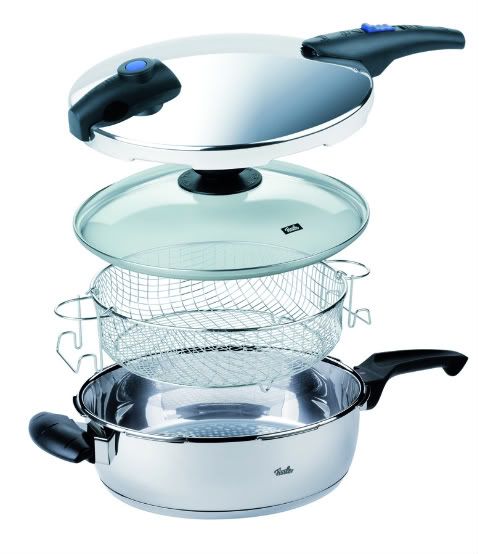 Pressure Pan Set
Includes 4.2 Quart pressure pan with pressure lid plus a glass lid and wire basket insert.
Retail $340 Our normal price $265 Promotional price $240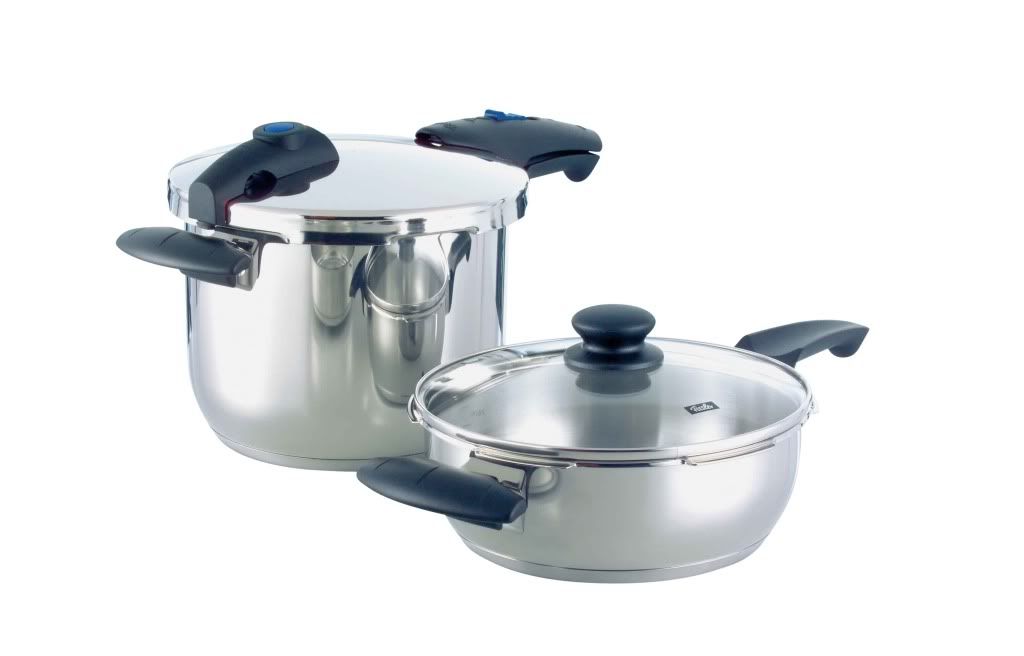 Quattro Set
Includes 6.4 quart pressure cooker 2.7 quart pressure skillet Pressure lid and glass lid
Retail $345 Our normal price $279 Promotional price $243
One additional special Fissler product that I highly recommend is the versatile induction cook top. The Fissler Cookstar Induction Pro can be used anywhere there is an electric outlet and can be used for convenient cooking or table top warming. This 14″ by 11″ unit is a great addition to any kitchen
Retail $370 YSK Price $270
Other Promotions
Swiss Diamond Non-Stick Cookware
Swiss Diamond is a superior non- stick cookware manufacturer. They have a wide range of cookware from frying pans to woks.
8 inch Fry Pan with cover
11 inch Fry Pan with cover
Retail $260 Our promotion $205
Two piece fry pan set — 10″ and 11″ fry pans
Retail $180 Promotion $150
Two piece covered fry pan set —
8″ and 11″ covered fry pans
Retail $260 YSK Regular Price $225 Promotional price $200
Similar to the Fissler knives above, listed are the MSRP of several items. Take 20% off any single item, 25% off two items and 30% off three or more items.
These can be seen at SwissDiamondusa.com
Covered Fry Pan 8 in $100.00
Covered Fry Pan 10in $140.00
Covered Fry Pan 11in $160.00
Covered Fry Pan 12.5 in $185.00
Covered Sauce Pan 1.4 qt $146.00
Covered Sauce Pan 2.2 qt $152.00
Covered Sauce Pan 3.2 qt $158.00
Covered Saute Pan 3.2 qt $170.00
Covered Saute Pan 4.3 qt $176.00
Covered Soup Pot 5.5 qt $194.00
Covered Soup Pot 8.5 qt $217.00
Covered Wok w/ Rack $240.00
Note: Induction stove top compatible cookware from Swiss Diamond is available. Contact me for prices.
Chasseur Enamel Cast Iron
Chasseur enamel csat iron is a top quality product manufactured in France. A leading brand in France, Germany and Italy but not well known in the US, Chasseur provides a range of colors and styles from individual serving Dutch ovens to large Dutch ovens as well as frying pans, grills and pans.
Chasseur Dutch Oven – Round
4 quart enamel cast iron Dutch oven choice of color blue, green, red, yellow or black
Retail $219 Our normal price $175 Promotion price $157
Chasseur Cast Enamel Iron Casserole Dish
Oval 11″ x 8″ x 1 1/2″ 1 1/2 quart cast iron casserole or Rectangular 11 x 7 1/2 x 1 3/41 3/4 quart
Your choice of color blue, green , red or yellow
Retail $99 each Promotion any two $160 any three $225 four or more @ $70 each
Clay Bakers
Some of our most popular products have been clay bakers. We have both Romertopf and Schlemmertopf which has a glazed bottom). Check out these alternatives.
Large enough for a 17 pound turkey —
Romertopf 117 Your choice $59
Schlemertopf 832
The family size around 3.5 quarts
Romertopf 213 Your choice $48
Schlemmertopf 835
A versatile small version (the one we use a lot)
Romertopf 140 Your choice $35
Schlemmertopf 831
A bread bakers special combination:
Bread Baker 5″ x 9″
French/Italian Baker 4″ x 13″
Mini Bread Baker (4) 4″ x 3″
Mix and match any three or as many as you want for $15 each.
For your casseroles, a ceramic rectangular baking set of three: 11″ x 8″ 12″ x 9.5″ and 14.5″ x 10.5″
Your choice of White, Red, Blue. Green or Yellow
Regularly $42 Promotion $35
Or choose an oval option for the same price.
Stainless Steel
Paderno Tri-ply Stainless Steel Roasters
Small 10″ x 15.5″ Retail $255 YSK Price $210
Medium 12″ x 20″ Retail $325 YSK Price $250
Large 17″ x 24″ Retail $390 YSK Price $300
Each of these will include a Meat Roasting Thermometer a $14 value
Because my web site is not operational, to order these products please use one of three processes:
Order direct through Pay Pal with payment going to yogiwan@gmail.com State in the comments section which product you are ordering and your shipping address. Pay Pal will take all credit cards.
Email your request to chef@yoursmartkitchen.com and include payment and shipping information.
Call me at 775 787 9850 to ask any questions or to create your own custom promotion. You will find that since my online site is not working that I am very accommodating.
In all cases you will receive an email confirmation of your order.
Terry Retter
Your Smart Kitchen
1820 Sun Shadow Court
Reno, NV 89523
775 787 9850